I think most of us have probably had THAT boyfriend or family member. You know, the one who insists they want to come see you horse show, but spends the whole time complaining. They're hot, they're cold, they're bored, you aren't paying enough attention to them, it smells, it's dusty, they're hungry, when are you going to be finished? After one or two shows of babysitting THAT person, you never want anyone you love to come watch you compete ever again.
I've had one of those. I'm not sure that I've ever wanted to murder someone more than I did that particular week, and the scars are forever on my psyche. Now when someone says they want to come watch me show, my immediate reaction is something like this: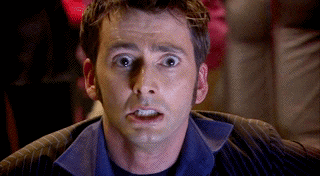 It doesn't matter how much you love someone or how great of a person you think they are, you just never know what they're going to be like at a horse show. Let's be clear – I show for myself. It's fun for me, I have my own little social scene, and I don't have to worry about anyone else or what they want/need. It's a nice, albeit expensive, reprieve from the responsibilities of my "real life". So if you march up in there and need to be babysat or ruin my otherwise good time with your whining and neediness, I just can't do it. I'd rather you support me from afar with a few facebook likes and a really nice present on my birthday (hey, a girl can dream).
When my dad, uncle, and grandma said they wanted to come to Holly Hill, my first thought was "Oh god". Nothing against them at all, that's just my knee jerk reaction to anyone wanting to come to a show. My uncle is a character, he's entertaining but you never quite know what he's going to do. I was worried about the mud and substantial amount of walking for my grandma. My dad… he's the most patient, sensible person I've ever known, so I had hope for him. Still, there was trepidation. That's a lot of people.
Turns out, though.. they were model citizens. By far the best "horse show spectators" I've ever had show up to watch me compete. They would arrive right around the time I was getting on (standing far enough back to not be in the way, but close enough to hand me things I needed), bringing food and drinks with them. That's really nice, because I don't ever remember to eat or drink appropriately at shows. Then they found their way down to wherever I was riding, stayed well out of anyone's way, stayed quiet, and met me back at the stalls when we were done.
They didn't need to chat a lot, and they didn't complain. Even when they accompanied me on the course walk they didn't whine about the rapid pace, the crazy humidity, or the constant rambling to myself. And then, after I was done riding, they left! They didn't want me to entertain them, they didn't complain about the fact that I couldn't come spend time doing other stuff with them. They just smiled, said good job, and went on their way. That right there is how it's done. Best horse show spectators EVER.
I see a lot of bloggers who have boyfriends or parents tagging along with them to horse shows though… how does that work for y'all? Are they all just really well-behaved or are you somehow able to keep zen long enough to not kill them?