Today is one of those random conglomerations of thoughts, because I don't have a lot to say about any one thing, but I do have a whole lot of stuff happening in my head.
Ever since I saw a lesson recap from A House on a Hill where she made some gif's of herself from videos, I've thought it was brilliant. By embedding them in your post you can basically force people to watch little video clips without actually having to click on anything. I fully support making people do things whether they wanted to or not. Especially if all you have is short little clips anyway, imgflip.com becomes a playground. Not saying that I wasted an hour gif-ing myself on there or anything…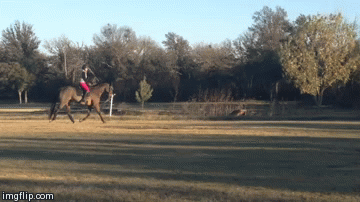 Second random of the day: I'm not going to complain about the forecast this weekend. Really I'm not. Everyone knows that severe heavy thunderstorms make dressage and stadium day better, especially when they're on grass. Ride times (or maybe they should be called death times?) should be out today. I'm just so excited. And so not complaining at all. Nope, not me.
And last but not least: Viva Carlos' 10 questions for November!
Have you ever owned a horse? Henry is horse #11 if I'm remembering them all. But I've never had more than 3 at once. Yet.
What is your favorite aspect of your discipline? I think it takes a lot of heart on the part of the horse (and rider too, but I'm more impressed with the ponies) and trust in the rider. Plus it's just plain fun, and at the end of the day isn't that the point?
What pet peeves do you have concerning your discipline? Sloppy turnout (sorry, the h/j roots are deeply ingrained) and borderline dangerous riding at times. That can really apply to both the jumper ring and eventing.
Do you do barn chores? Not so much these days.
What is your least favorite barn chore? Back when I did them – blanketing. Usually I was freezing to death, trying to fasten a million buckles and straps on horses that generally wanted me to eff off.
What do you consider the worst vice in a horse? Rearing, followed very closely by a bad work ethic.
What saddle brand is your favorite? CWD. Not that I'm biased or anything.
Do you ride with a quarter sheet in the winter? If it's cold enough, yes.
Does your horse wear boots? What kind? I've got two full sets of open fronts/hind ankles, his Majyk Equipe XC boots, and a couple pairs of polos. What he wears depends on what we're doing that day, although he does wear bell boots 24/7. Looking to add a full set of fleece lined brushing boots to my collection if anyone sees a super good deal. 😉
Full seat or knee patch breeches? Funny, back when I evented the first time I really hated full seats. But having just gotten a couple pairs again I actually really like them, especially in my jumping saddle. Go figure on that one. So I guess I like them both.