If you were feeling sorry for Henry after yesterday's post where he had to do dressage and then pony his kid brother around, fear not: Saturday was an exponentially more exciting day by Henny standards. We stayed on grounds overnight on Friday, and were set to go in the first XC schooling group at 8am on Saturday.
As soon as I swung aboard, Henry knew what we were doing (I swear he knows the difference in what all his different tack/bridles mean because he sure as shit never marches out to a dressage ride) and he was READY TO GO in warmup. We hopped over some warmup fences and then just headed around the course with the group, jumping a few things here and there along the way. The main goal for the day really was to take him back to the Irish Bank where he had such a big come-apart a couple years ago. He has jumped it since then – it was on the course for both of our Prelims – but in the opposite direction as the way that caused all the problems back then. It looks a little different from the other way so we wanted to see what he thought and make sure it was officially and thoroughly conquered.
For those who don't remember, that bank confused him so much back then that it kind of broke him about banks for a while. I don't know what it was, but he just didn't get it and couldn't figure it out, and it completely short-circuited his brain. We took a few steps back and rebuilt his confidence, but just haven't re-presented it to him from that direction since.
He's a more educated horse now, though. First we hopped over it from the direction he's been doing, the way that it's currently set on the course. Then we turned around and came back over it from the "bad" direction and he hopped right through it just fine. No hesitation, no confusion. We even added the corner a few strides away and he was super.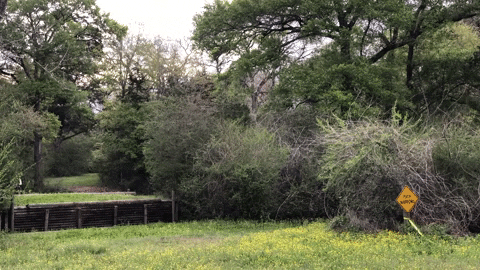 We quit after that, mission accomplished and no need to jump Henry's legs off.
I went back up to put Henry away and then it was Presto's turn! The plan was to pony him on day 1, and then take him around in-hand on day 2.
We got down there as my XC group was finishing up, so he hung out and walked back and forth over a bridge while they finished.
Then the group left, and he started neighing a little, so I put him to "work" to keep him occupied. He walked up and down the little bank, walked over some logs, and then I sent him trotting over a couple of little things. As soon as I gave him something to do he settled down and got right to task, even having been "abandoned" in the big field by himself. I was really pleased with him for that.
Then he stood quietly in warmup while all the next group of horses bustled around, and we walked around the course with them on foot as they schooled. He seemed to be enjoying his little walk through the woods, ears flopping as he went. He stood patiently at the stops, and never got worried or spooky. I sent him back and forth over a real ditch a few times too, which he plopped right over. He's naturally so brave and seems to really enjoy the challenge of figuring out new things.
By the end I was sitting on a Prelim rolltop holding his lead rope, and he literally tried to put his feet on it to climb up there too. There were a couple humans and a dog already up there (which he was intent on playing with), so he figured why not him? This is how I found myself saying "Presto, do not climb on the jumps". Do I own an oversize Labrador or a baby horse? I'm not sure.
It was such a good learning weekend for both boys, and I love having Presto tag along with us. They're so different in age and personality, it makes for a fun contrast. I feel pretty darn lucky to have them both.