Yesterday afternoon we loaded the kids up for a quick little jaunt down to Pine Hill to cross country school. After what has shaped up to be one of my busiest and most stressful weeks at work ever, I really needed a little reprieve. It's also supposed to start raining again today so we figured this might be our last chance at a decent school for a while.
We haven't jumped any XC fences since the last show here at the beginning of December. And we've jumped at all a grand total of twice. So… figured it was probably a good idea to get out and gallop a few things before the next show coming up on the 20th. We weren't planning on doing much, just getting the ride dialed back in. I tend to always take the first few fences to slip back into the bolder XC ride, and the longer I go in between, the longer it generally takes me to remember. This seems especially true as we've gone up the levels. Bigger fences and more speed are harder to just snap right back into, when you aren't practicing those things on a regular basis.
I also wanted to take the opportunity to try out a couple of new acquisitions to my equipment line up – a Champion skull cap and a Dainese XC vest. I need to do actual reviews of these soon but preliminarily I'm happy with both things. The helmet is AWESOME, like it's definitely up there with being one of the nicest helmets I own, if not the nicest. Which is saying a lot, because… um… I own a lot of helmets. The vest is just downright fascinating. I like it, but it's definitely different from anything I've had before. I have many thoughts about it. We'll save them for another day.
We mounted up and set off to warmup, and Henry felt great. The first few fences were the same as my first few fences always are, with me trying to remember the bolder ride and finding more impulsion again. From there we went to the water, which was a bit deep to jump directly down into, so we made a creative route through, taking the novice log in, skimming the edge, and jumping the Prelim skinny out.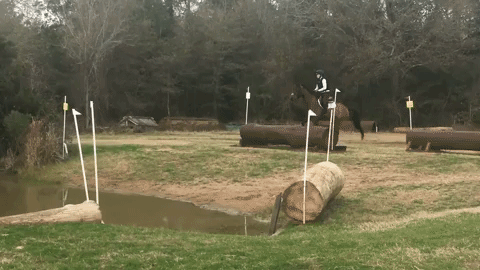 After that we strung a few galloping fences together. I'm trying to up the ante on the speed between the jumps a bit, since things are definitely different in that regard between Training and Prelim, but I'm still kind of learning just when I need to sit up and rebalance, how MUCH I need to rebalance, etc. More speed always changes things. This is my big learning curve at the moment, really. Timing of the half-halt to change the balance, and also still allowing him to carry more impulsion and cover more ground. Everything at Prelim is designed to be ridden like you're attacking it, but you still have to attack it with a lot of balance and respect – if that makes any sense? I need to set something up so I can practice this at home more and get used to the different feel.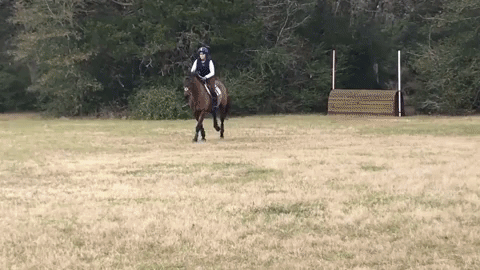 The ground back in the woods was still quite wet, so we just stuck to what we could do in the front field. Luckily there's still plenty up there to keep you busy, including some of the bank complexes. Prelim has a bigger Irish bank back in the woods (the one that Henry used to have a serious mental come-apart about, but skipped right over last month like it weren't-no-thang and made my heart so happy) and a smaller downhill bank combination up front. At first I was struggling to get Henry up in front of my leg, which… newsflash, shit don't work that well when a horse is behind your leg on XC. He'll keep going and keep jumping, but it ain't cute. It was very odd for him. He wasn't responding the way he normally does when I close my leg. I ended up having to give him a couple taps on the butt to get his impulsion back, and then everything jumped much better.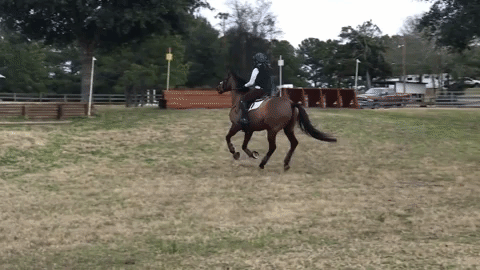 When I got off I thought he looked like maybe he wasn't feeling the best, and when he didn't seem interested in eating a treat, my suspicions were confirmed. I dosed him with some omeprazole and coaxed him into eating some grass, and he started to perk back up. I think his tummy was bothering him towards the end of the schooling, which would explain the lack of his typical impulsion. So – back on ulcer meds he goes for a while. Bye money.
I'm glad we were able to beat the rain and get back out there and school a bit. I have a few things work on over the next week before we head back out for our next Prelim run!